The -Koro strategies are a series of six themes centered around the Field Spells belonging to the archetype of the same name. Each of them combines an Attribute with a specific playstyle and encourages the use of the matching Turaga, as well as Matoran and other Warriors of the correct Attribute. To learn more about the individual strategies, refer to the dedicated Theme Guides linked below.
Meanwhile, this page right here will go over some cards contained in the expansion that can be inserted into any of these six strategies to supplement its respective Turaga, assortment of Matoran, and possibly even Toa.
First of all, we have the one of the few support cards that qualify the -Koro Field Spells for the rank of an archetype rather than a simple series or theme.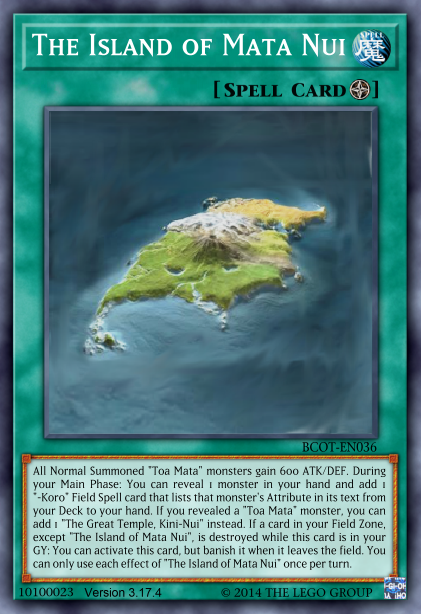 The Island of Mata Nui
Field Spell
All Normal Summoned "Toa Mata" monsters gain 600 ATK/DEF. During your Main Phase: You can reveal 1 monster in your hand and add 1 "-Koro" Field Spell card that lists that monster's Attribute in its text from your Deck to your hand. If you revealed a "Toa Mata" monster, you can add 1 "The Great Temple, Kini-Nui" instead. If a card in your Field Zone, except "The Island of Mata Nui", is destroyed while this card is in your GY: You can activate this card, but banish it when it leaves the field. You can only use each effect of "The Island of Mata Nui" once per turn.
The Island of Mata Nui acts as an additional searcher for your Field Spell(s) and returns from the GY to the field should one get destroyed, allowing you to simply add another copy. The condition is having a monster of the matching Attribute in your hand to act as a "guide" to the village, but that should usually be the case in a properly built -Koro deck. The effects that support the Toa Mata with a stat boost and a search for a different card are actually relevant in these strategies too, as we will see with the following cards.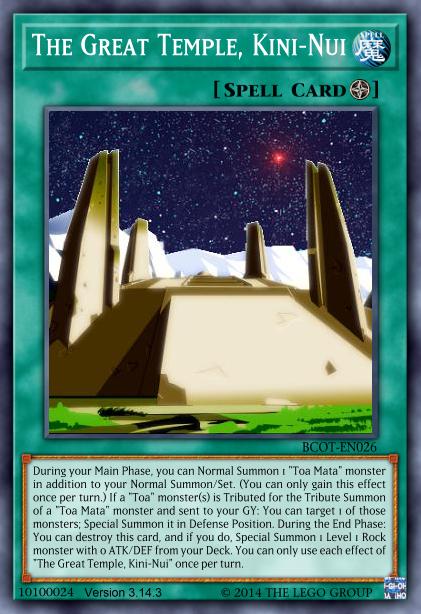 The Great Temple, Kini-Nui
Field Spell
During your Main Phase, you can Normal Summon 1 "Toa Mata" monster in addition to your Normal Summon/Set. (You can only gain this effect once per turn.) If a "Toa" monster(s) is Tributed for the Tribute Summon of a "Toa Mata" monster and sent to your GY: You can target 1 of those monsters; Special Summon it in Defense Position. During the End Phase: You can destroy this card, and if you do, Special Summon 1 Level 1 Rock monster with 0 ATK/DEF from your Deck. You can only use each effect of "The Great Temple, Kini-Nui" once per turn.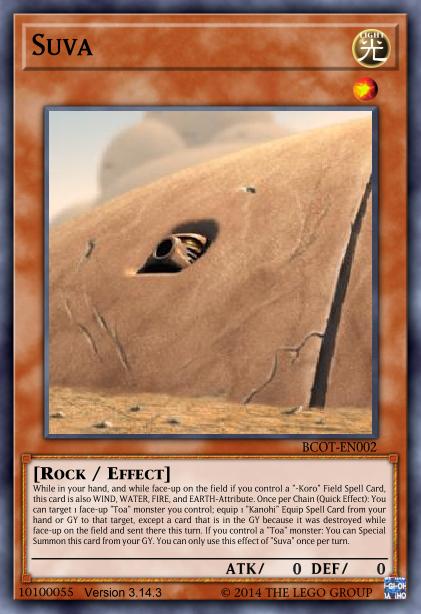 Suva
Effect Monster
Level 1 | LIGHT Rock | ATK 0 / DEF 0
While in your hand, and while face-up on the field if you control a "-Koro" Field Spell Card, this card is also WIND, WATER, FIRE, and EARTH-Attribute. Once per Chain (Quick Effect): You can target 1 face-up "Toa" monster you control; equip 1 "Kanohi" Equip Spell Card from your hand or GY to that target, except a card that is in the GY because it was destroyed while face-up on the field and sent there this turn. If you control a "Toa" monster: You can Special Summon this card from your GY. You can only use this effect of "Suva" once per turn.
Kini-Nui and Suva, together with the Toa Mata of the respective Attribute and their matching Kanohi, form a little package that can be inserted into any -Koro deck to get an additional main deck boss with relatively low investment. The extra Normal Summon from Kini-Nui means a Toa in your hand can be brought out without hindering your regular plays, while the Suva's effects to count as almost all Attributes in the hand and revive itself as long as you control a Toa Mata makes it free Tribute fodder. Kini-Nui can also blow itself up in the End Phase to get a Suva from the Deck to the field, which will conveniently trigger Mata Nui in the GY and provide you with a 600 ATK/DEF boost to your Toa. And of course, the Suva gives you access to any Kanohi in the GY while it is on the field, equipping the Toa of your choice with additional useful abilities.
So there is some clear payoff to running these, but you should also keep in mind that these cards do essentially nothing if they happen to be in your hand without a Toa in sight. The Suva gains its multi-attribute effect on the field as well if you control a Koro, which makes it potentially usable as a combo piece, but that's about it. It may be a good idea to base the degree to which you commit to this Toa Mata package on the ease with which your Deck can make Isolde, as that is the easiest way to ensure you have the Toa in hand and thus everything else live.
Showcase
Also check the individual theme guides linked above for more in-depth testing videos.