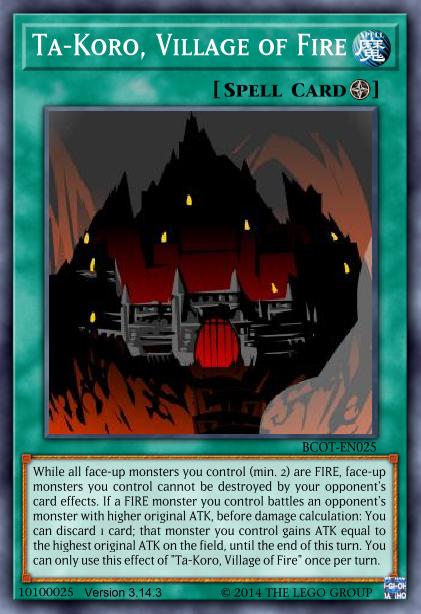 Amidst the lava flowing from the Mangai volcano lies the fortified village of Ta-Koro, home to the steadfast Ta-Matoran who live according to the Principle of Courage. These facts are reflected in the design of the field spell, which grants protection to those who live within its walls (obviously only FIRE monsters – if there's others around you probably aren't in Ta-Koro) and gives strength to those who show the courage to face stronger opponents in battle. And this directly leads us to the basic points of the strategy the Ta-Koro theme is meant to follow:
Build a board of only FIRE monsters
Battle your opponent's established board to inflict lots of damage
Hide behind the walls protecting you from easy boardwipes if you can't OTK, so you get the chance to continue the beatdown in another turn
Being a battle focused deck, you of course want to go second, which means you will likely have to contend with negations and floodgates and all that. The nice thing about having this ATK boosting effect on a Field Spell is that, in theory, you only have to deal with any potential Spell negates (using the various going second staples we thankfully have nowadays), plop down any FIRE monster of your choice, activate Ta-Koro, and you are ready to run over just about any monster that can be destroyed by battle – no monster effects needed. We can of course imagine any number of scenarios in which this is not possible, but it has at the very least proven to be a highly convenient option in the EDOPro AI testbed.
Ta-Koro by itself provides a clear strategy we should be going for, but the tools it gives us to achieve that are somewhat situational. In order to ram your monsters into your opponent's for big damage, you first need to get to a point where both players do in fact have monsters on the field. A reasonably easy condition, but nonetheless one which the Field Spell does not at all help us achieve. Therefore, it is time to look at some of the other cards that go into a Ta-Koro deck.
Like the other Turaga, Vakama is a Link Monster requiring at least one Warrior monster of the right attribute (here FIRE) as material, which means you can use Ta-Matoran, Toa of Fire, or any other FIRE Warrior serving as standin for them (cough Infernoble cough). So the Ta-Koro deck clearly has easy access to him, but what does he contribute?
Well, his first effect, based on the visions of the future he saw in the story, reveals the top card of each Deck, and then the players automatically Special Summon either the revealed monster if it is a FIRE Warrior, or a clunky Attack Position Token with 1500 ATK otherwise. The idea is that, unlike you, the opponent isn't likely to run any FIRE Warriors, so in the desirable case, you get some useful monster while your opponent only gets the Token. And suddenly, we have set up the exact type of situation that enables Ta-Koro. Which, by the way, can be searched with the help of this effect as well because the opponent is forced to Special Summon and thereby provides the activation trigger for Demise of the Land.
The second effect rewards the battle-focused playstyle Ta-Koro is going for by letting you draw from other monsters' destruction by battle. This effectively means Ta-Koro's ATK boost effect replenishes its own cost immediately (unless some kind of battle protection is at play), making for another nice bit of synergy. This effect is also where Vakama's Mask of Concealment, the Noble Kanohi Huna comes into play: By making it so he cannot be attacked while you control another monster, the opponent is forced into giving you that draw before destroying Vakama himself by battle.
Okay, so we can now get a few monsters on board, make sure our opponent has something we can attack into, and use Ta-Koro's effect to ensure a successful Battle Phase where we can deal a fair amount of damage. Even if it's not enough to win right there, the fact that we have multiple monsters (and presumably obey the FIRE restriction) means the Field Spell grants some protection so we may have another chance to finish the job. But "may" is an unreliable word, and in a game like Yugioh, a single layer of blanket destruction protection can easily be broken even by an opponent at a disadvantage. So perhaps it would be better if we could somehow increase the damage output to the point of OTK after all. If we can make certain generic bosses like Powercode Talker, that is already possible, but there really should be some built-in method as well. Still, we cannot exactly expect the small Matoran and Turaga of the village to start hitting like a truck just because it's convenient.
In other words: We need a hero.
Tahu, as indicated in the long lead-up, serves as your big damage source that bridges the gap between beatdown and OTK. Since you either need to save your Normal Summon for him (though a Ta-Koro deck should at least have plenty of monsters he can Tribute from the hand thanks to his special condition) or coincidentally get him from Vakama's effect, he's probably not going to be around in every single board you make, but when he's there you're looking at quite the big additional hit in the Battle Phase. Tahu's effect triggers after damage calculation – regardless of which or whose monster battled – to make a monster's ATK to 0 and set it on fire so it burns the opponent when destroyed by battle in this turn.
Imagine, for example, this scenario: You control Ta-Koro, Vakama, and Tahu. Your opponent controls a 1500 ATK Vision Token generated by Vakama, as well as some attack position monster with 2800 (original) ATK. Now you can just attack over the Vision Token with Tahu (= 1000 damage), trigger his effect to make the bigger monster's ATK 0, and attack into that monster with Vakama. Since Ta-Koro compares the original ATK of the battling monsters, you can now trigger its effect before damage calculation to make Vakama gain 2800 for a total of 4200 ATK. Not only does your opponent take that to the face (= 4200 damage), but also the burn from Tahu's effect (= 2800 damage). We add up 1000 + 4200 + 2800, and surprise, there's the magic 8000. Meanwhile, without Tahu's effect, we are limited to 1000 damage from attacking over the Vision Token plus 1400 from boosting Vakama to get over the big monster – still 5600 short of lethal.
Bit of an idealistic setup, of course, but with the help of generic staples and various other FIRE monsters you might just be able to force the game into that kind of state, or alternatively just add some extra attackers to make up the difference in less perfect scenarios.
Adding the Kanohi Hau, Mask of Shielding, to the mix also allows you to attack some big monster with Tahu, safely trigger his effect, and then have one of your small guys finish that monster off for massive burn damage, which is a nice option to have.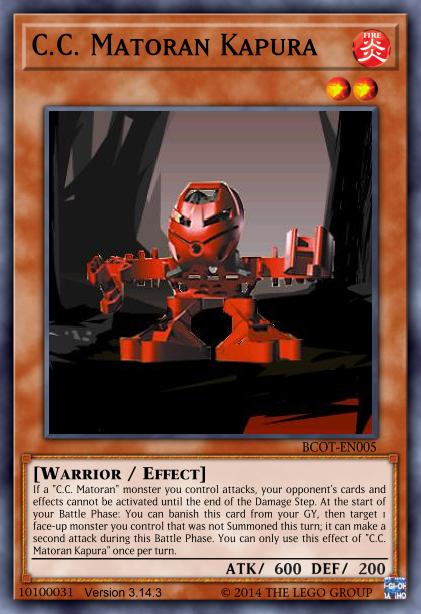 And as the final piece of Ta-Koro support in BCOT, the (real) Ta-Matoran of the Chronicler's Company brings two more battle-related effects to the table.
The first one is perhaps of more interest in the dedicated Chronicler's Company deck, but here it still lets the opponent get Kapura'd by Kapura himself attacking before they get a chance to react, which can be pretty good when the Ta-Koro ATK boost is added.
The second effect is my take on something that is simultaneously slow and fast: If you manage to have a monster stick around for a full turn, Kapura can give it an extra attack for potentially a whole lot of additional damage. This is especially potent in combination with Tahu, who could then trigger both halves of his effect all on his own, giving you that much more flexibility in how you use him.
Best of Test
Conclusion
A Ta-Koro deck's aim is to go second and utilize its various built-in tools as well as convenient cards from the general pool to hit through the opponent's monsters for massive damage. Here's a sample decklist to get you started, slightly more updated versions are included with each BCOT release.