Once upon a time (last week or so), in the middle of building this website and uploading cards, my mind wandered to Secret Village of the Spellcasters. And in that moment, it hit me. "Wait a minute", I thought. "I made Nokama a Spellcaster!"
And thus was the birth of Nokama's Secret Village.
You see, Turaga Nokama has the effect to make herself and the monsters she points to completely unaffected by two out of the three card types, depending on what you banish from the GY as cost. Secret Village prevents your opponent from activating Spell Cards as long as you control a Spellcaster and they don't. Therefore, with Secret Village active, Nokama could make herself and one other monster you control unaffected by every single effect your opponent can legally use.
Add to that the other two benefits she gets from pointing to a monster – being indestructible by battle and recycling a WATER monster from GY or banished during each of your opponent's End Phases – and you end up with a fun little challenge to the opponent. Can they use their restricted options to break through your protection, or will you get to recover your resources for a followup push in the next turn?
This by itself is certainly not an unbeatable challenge. Even assuming just running over the monster next to Nokama's arrow isn't feasible (due to protection or beefy stats), it's still possible to use single cards like Kaijus or Evenly Matched that don't care about "unaffected by effects", or just use monster-based removal to get rid of Secret Village before exploiting the Spell-shaped hole in Nokama's defenses. Since Nokama needs to activate an effect to turn on her protection, a negation or removal in response to that will also really screw up the plan. And if your opponent manages to get at least 9200 damage on board, they can just disregard the challenge entirely and beat you to death straight through your feeble little Turaga.
So to make this idea reasonably effective, we still need to combine it with additional threats and/or disruption. I tried to achieve this by tweaking the Mermail/Atlantean-based build I originally came up with for Ga-Koro a bit, here's how it turned out.
Theory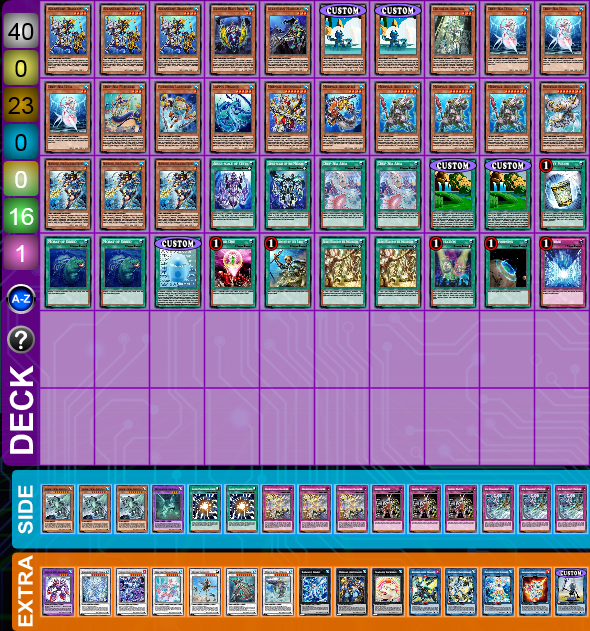 Most of this is just standard Mermail/Atlantean stuff and you can probably find much better descriptions of that elsewhere than I'm able to write, so I'll just explain the other additions that specifically help this deck idea.
Crusadia Arboria, being a WATER Warrior, serves as the honorary Ga-Matoran that allows reliably making Nokama. She can either be Special Summoned directly from the deck by Crystron Halqifibrax, or searched out by ROTA or Mermail Abysspike and then Special Summoned to your zone a Link Monster points to (which is why playing Salamangreat Almiraj can really unbrick certain hands). Instant Fusion and Elemental Hero Steam Healer are also a possible route to Nokama.
In addition to Secret Village itself, we play the extra field searchers Metaverse (because getting to the Village anytime before your opponent's Main Phase is good enough) and Set Rotation (because giving your opponent Ga-Koro probably isn't going to hurt much, also they can't activate it anyway with Secret Village up).
For the Abyss-scales that go on Abyssmegalo or Abyssgaios, I included both Cetus and Mizuchi – the former actually gives some additional benefit (such as negating Evenly Matched) when we've already locked the opponent out of Spell Cards, while the latter is much better in cases where we can't get to Secret Village. And the combined ATK boost from having both equipped makes it a whole lot harder to solve the challenge via battle.
A last-minute addition to the side deck that unfortunately never came up in my brief tests is Ice Dragon's Prison, which in theory should have a bunch of utility in this deck. You can use it to fill Nokama's zone during your opponent's turn in case whatever was there originally gets removed, and chances are you'll actually get the banish for free since your monster will be unaffected by Traps. Honestly might be main deck worthy, but I'd have to test more to be sure.
Random sample hands:
Again, most of this is standard Mermail/Atlantean stuff that probably could be done better, the interesting part is just how Nokama is worked into this.
Practice
I ran about half the usual AI testing circuit with this deck and got some, well, mixed results. The basic strategy of sitting on an invincible pair of Nokama + big body and recycling monsters every turn does often work, but the fact that it only slightly disrupts the opponent's plays with maybe an Atlantean discard here and a negation there does give them a lot of room to break through the small gaps that do exist. And if they do, it's going to be pretty hard to turn the tables back because setting up the initial board eats up a lot of resources. Similarly, if they just don't bother with Nokama and instead build up an annoying board of their own, the one monster you get back in the End Phase might not be enough to mount the kind of offense you need at that point. These issues could potentially be fixed by moving away from pure WATER monsters a bit and including more cards that hinder your opponent with relatively low investment, but that would take some additional effort to figure out and feels a bit less interesting to me since it's off-theme.
Also, another source of problems was that I'm straight up not smart enough to play Nokama competently. The fact that she immunizes monsters on both sides of the field against a specific, variable subset of cards has been the source of many fuckups leading to probably avoidable losses. The existence of this effect irrefutably proves that I know much more about making Yugioh cards than about playing them.
Anyway, despite the problems found in testing, there were definitely times when things did go as envisioned and I was able to enjoy being on the dispensing end of a soft lockdown facilitated by a 28-piece Lego set from 2001. For an example, check out the video below.