As of version 4.2.5, 4 out of 6 Toa Nuva have been implemented, accompanied by their Nuva Symbols and Kanohi Nuva. That's not quite enough to make a final Theme Guide just yet, but in testing these cards, I've come up with a pretty interesting build that seems to make pretty good use of them.
The core idea of this deck relies on a few convenient properties of the Nuva-related cards: Kanohi Nuva search Nuva Symbols when sent to the GY, Nuva Symbols can search any Energized Protodermis card if you already have the matching Toa in hand, and Energized Protodermis Chamber just so happens to be Level 2.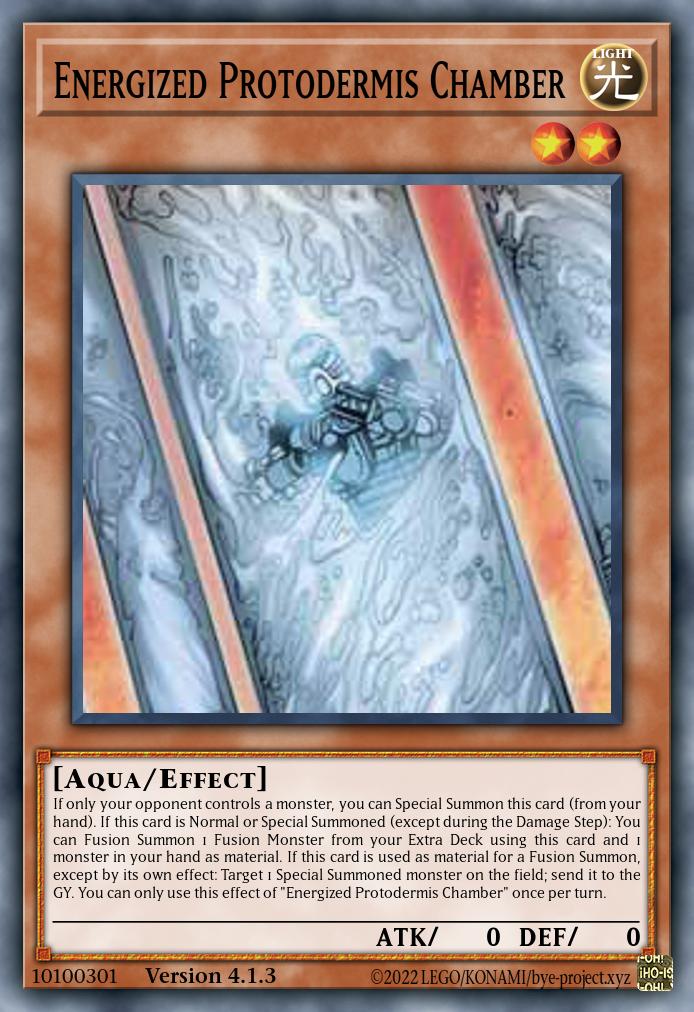 Energized Protodermis Chamber
Effect Monster
Level 2 | LIGHT Aqua | ATK 0 / DEF 0
If only your opponent controls a monster, you can Special Summon this card (from your hand). If this card is Normal or Special Summoned (except during the Damage Step): You can Fusion Summon 1 Fusion Monster from your Extra Deck using this card and 1 monster in your hand as material. If this card is used as material for a Fusion Summon, except by its own effect: Target 1 Special Summoned monster on the field; send it to the GY. You can only use this effect of "Energized Protodermis Chamber" once per turn.
The consequence is that any combo that makes Isolde will be able to search you Energized Protodermis Destiny (because she adds a Toa Mata on summon, and the Kanohi Nuva sent to GY as cost for her other effect can get the matching Nuva Symbol), which in turn can send one of your monsters to the GY and get Chamber from the Deck, triggering its effect to fuse with the Toa Mata searched by Isolde. And by linking into Spright Elf (Isolde is valid material for this!), you can bring back the Chamber every Main Phase to make additional Toa Nuva as long as you have a Toa Mata in your hand. Which is usually going to be the case when Toa Nuva search Nuva Symbols on summon, and Nuva Symbols search Toa Mata.
The Deck
… comes in two flavours – a 40 card version optimized for consistency, containing pretty much just the bare minimum to make the combo work, and a more bricky 60 card version that also takes advantage of various Toa Mata support cards.
Compact 40 card version
The combo is facilitated either by Neo Space Connector (summoning Aqua Dolphin) or by Kopeke (searching Taipu or Tamaru, potentially also returning a garnet to the deck). As outlined above, you make Isolde one way or another, add a Toa Mata to your hand (usually the one whose Nuva form you want to make), and send some number of Kanohi Nuva to your GY to Special Summon a Warrior monster (my preference is Taipu or Tamaru, depending on what has already been used). One of those Kanohi Nuva will then be able to trigger and place a Nuva Symbol from your Deck in your Spell & Trap Zone, and by getting one that matches a Toa Mata in your hand, you will be able to search Energized Protodermis Destiny.
Next, you use Isolde and the Warrior you summoned as material for Spright Elf and immediately activate it to bring back any Level 2 from your GY. Activate Destiny targeting that Level 2 monster, send it to the GY, Special Summon Energized Protodermis Chamber from your Deck, and Fusion Summon your first Toa Nuva. All of them have the effect to add a "Nuva" Spell/Trap and discard 1 on Fusion Summon, so if you can spare a card from your hand, you can get a Kanohi Nuva, a Nuva Symbol, or the Nuva Cube depending on your needs at that particular moment. And with Spright Elf on the field and Energized Protodermis Chamber in the GY, you are ready to bring out yet another Toa Nuva as soon as your opponent's Main Phase rolls around. Furthermore, since the collective once per turn clause on the Kanohi Nuva will have reset by that point, the search and discard lets you put another Nuva Symbol on the field immediately, and since you control a Toa Nuva, you even get a nice little buff for your whole field along the way.
All currently implemented Toa Nuva are included in this Deck, but Gali and Lewa are slightly prioritized as our main disruption providers with a monster negate and a bounce, respectively. We run one of each Kanohi Nuva and Nuva Symbol to have a variety of benefits available, but realistically you could easily cut a few Kanohi Nuva – without a Suva, they're mostly used for searching, and Kopeke putting a card back in the deck means Isolde will be live even if you happen to draw all of them. The Nuva Cube helps you dodge removal on your Nuva Symbols to escape their adverse effects, while granting you benefits including a quick swap to another Symbol and a Spell/Trap negate depending on how many of the Symbols you have gathered.
A great feature of this Deck I would like to point out is how well it lines up for Small World searches. Practically any monster you can draw has a bridge into all the others, be it starters, extenders, or handtraps. This is largely made possible by the fact that we play Neo Space Connector and a single copy of Fire Flint Lady, both of which share exactly the Warrior Type with all of the Matoran and Toa (except the Lady/Tahu pairing). This excellent consistency boost is more or less the only reason Connector is even in the deck over Takua (who wouldn't need any additional bricks).
The Extra Deck has Xyz lines for Rank 2 (Matoran) and 8 (Toa Nuva) as well as a Zeus, none of which ever came up. Almiraj is a way you can trigger Kanohi searches from awkward positions, letting you still get to Destiny and therefore a Toa Nuva provided you have a Toa Mata in hand already. As for the Side Deck, a pretty funny detail is that Nibiru Tributes by effect and would therefore trigger a Nuva Symbol of Soaring Vitality if you activate it while already having an established board. Again, never came up.
Fancy 60 card version
This version is built on the same core as the other one, but uses the additional 20 cards of space on some fun things. First and foremost, that means redundancy on the remaining Toa Mata and a slew of their classic support cards: Kini-Nui lets you easily access a Rank 6 or Isolde if you draw 2 different Toa Mata, the Suva lets you actually easily equip Kanohi to Mata and Nuva alike, the Suva Kaita can bring back Mata from the GY as well as any Toa that is banished, and Coming of the Toa lets you get up to 3 Toa Mata straight from the Deck. Depending on your luck, Call of the Toa Stones can set all of that up, and Quest for the Masks allows you to get a bit more value out of all those Kanohi.
To keep some amount of consistency, Takua was included as an additional starter. If Normal Summoned, he offers another guaranteed way to get Taipu or Tamaru onto the field, which translates to a full Isolde combo. Still, the overall amount of playable hands you open in 60 cards is obviously going to be less than in 40.
In the Extra Deck, the Xyz package has been replaced by one each of the Toa Mata Combinations, which actually are quite useful if you go through a line with Kini-Nui, Coming of the Toa, and/or Suva Kaita. A spicy detail set up long, long ago is that Storm does not prevent using the monsters it summons from the Deck as fusion material, so Destiny can totally upgrade one of those into a Toa Nuva. The deck also includes Instant Fusion and Energized Protodermis Flow, which gives you the option to make Toa Nuva via the GY and also mess with your opponent's Extra a little.
Sample Video
Includes a duel in EDOPro, as well as a little walkthrough of the base combo in Duelingbook.