The six Turaga of Mata Nui function as the leaders of the island's villages, and much like the villages themselves, the Link-2 monsters representing those wise elders are best talked about within the context of the respective Koro strategy, so check out the Theme Guides linked in each tab for that.
Aside from helping out their village's gameplan in some specific way, we can make a few general statements about the Turaga's design: They are Link-2 monsters that require a Warrior with their same Attribute as material, simultaneously referencing their past lives as Toa and making them easy to access via the Matoran in the main deck. They each have a matching Noble Kanohi Equip Spell that provides some relevant effect on the field (again, refer to Koro Theme guides) and can be used from the GY to revive exactly one specific Turaga by Tributing a monster – useful for Link climbing since it can easily gain you Link Rating. And their ATK stats are on the low end below 1500, because I once designed them as Level 3 Tuners that dodge Bottomless Trap Hole they are relatively frail non-combatants.
What they also share is the ability to be material for Amaja-Nui, a Link-3 monster representing a gathering of Turaga at the titular Circle of Legends.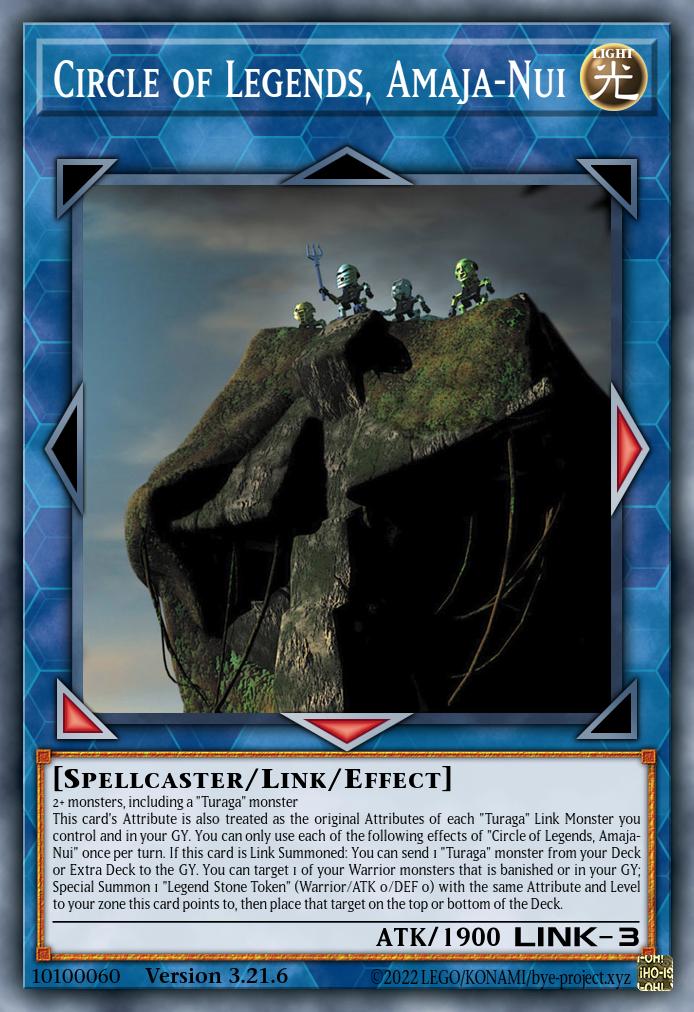 Circle of Legends, Amaja-Nui
Link Effect Monster
Link-3 [↙ ▼ ▶] | LIGHT Spellcaster | ATK 1900
2+ monsters, including a "Turaga" monster
This card's Attribute is also treated as the original Attributes of each "Turaga" Link Monster you control and in your GY. You can only use each of the following effects of "Circle of Legends, Amaja-Nui" once per turn. If this card is Link Summoned: You can send 1 "Turaga" monster from your Deck or Extra Deck to the GY. You can target 1 of your Warrior monsters that is banished or in your GY; Special Summon 1 "Legend Stone Token" (Warrior/ATK 0/DEF 0) with the same Attribute and Level to your zone this card points to, then place that target on the top or bottom of the Deck.
By taking on the Attribute of every Turaga in attendance and recovering spent Matoran of any matching Attribute, this card can be useful in any of the Koro decks and provides a convenient way to build on top of your Turaga once you no longer need it on the field. When Link Summoned, it can also send a Turaga from the Deck or Extra Deck straight to the GY, potentially giving itself an additional Attribute and setting up …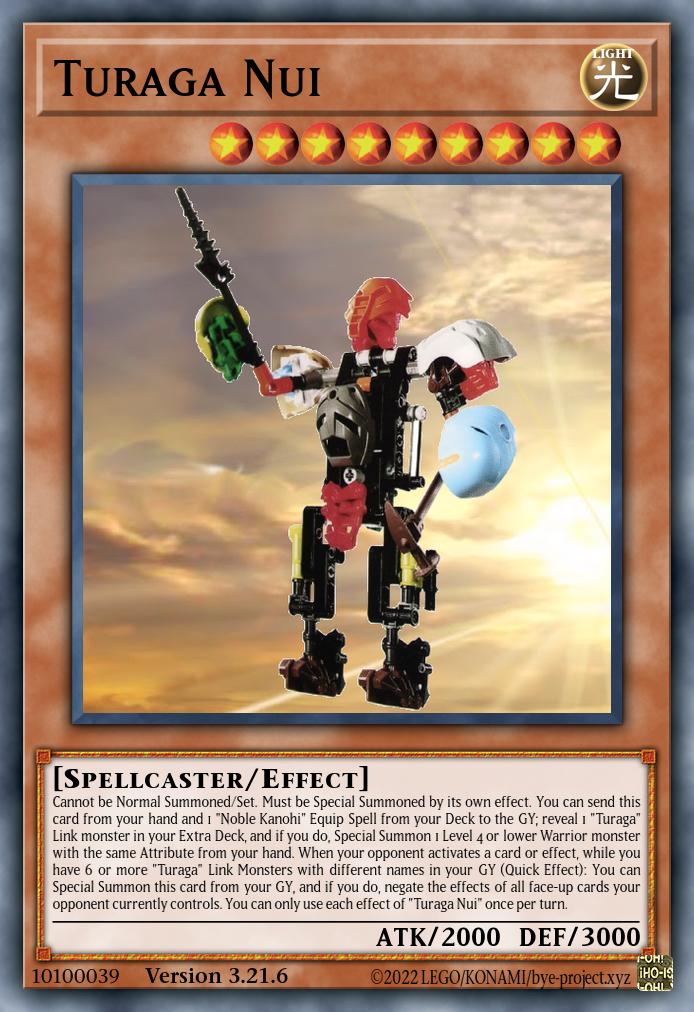 Turaga Nui
Effect Monster
Level 9 | LIGHT Spellcaster | ATK 2000 / DEF 3000
Cannot be Normal Summoned/Set. Must be Special Summoned by its own effect. You can send this card from your hand and 1 "Noble Kanohi" Equip Spell from your Deck to the GY; reveal 1 "Turaga" Link monster in your Extra Deck, and if you do, Special Summon 1 Level 4 or lower Warrior monster with the same Attribute from your hand. When your opponent activates a card or effect, while you have 6 or more "Turaga" Link Monsters with different names in your GY (Quick Effect): You can Special Summon this card from your GY, and if you do, negate the effects of all face-up cards your opponent currently controls. You can only use each effect of "Turaga Nui" once per turn.
… the Turaga Nui, a being of ultimate wisdom (allegedly) formed from the combination of six Turaga. Rather than a serious option for Koro decks, this is a silly gimmick that has an entirely separate turbo deck built around it – you put it and all six Turaga into the GY and then wait for the right time to negate your opponent's whole life. If you happen to draw it, it generously puts itself into the GY along with a Noble Kanohi (so you don't have to entirely rely on Isolde for that) to Special Summon the Warrior material for a specific Turaga from your hand, which is arguably helpful even if you're a well-adjusted member of society only using one Turaga, but probably not enough reason to play the card.